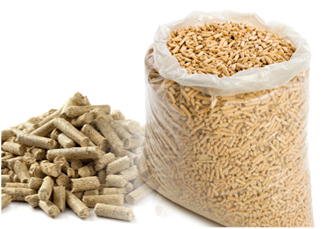 The wood pellet is a fuel that generates a sustainable and natural heat. It Is obtained from wood sawdust with no glues and paints, you get as standard from different manufacturing processes and industrial agriculture. The sawdust is dried and pressed into small cylinder thereby making simple storage and combustion automation. Absolutely devoid of any glue or chemical additives, and therefore no toxic, the pellet maintains its shape thanks to the binding effect of lignin, natural substance present in the wood.
Wood Pellets
Product Name Pellet Fuel
Description Wood Pellets
Size in mm 6 -8 mm
GCV 4300 + or - 5% Kcal
Ash <5%
Moisture 6 to <10%
Packaging 25 Kg
What is Fuel Pellets
Fuel Pellets are conditioned & compressed form of loose biomass like agriculture residue & Forest waste. It falls under many categories Biomass Solid fuel, Biomass Pellets, Wood Pellets, Sawdust Pellets, biomass briquettes, Fuel Briquettes…. Fuel Pellets are most Dependable, Quality consistent, Eco friendly, Renewable alternate fuel for generating HEAT in many forms for many applications in Industrial sector, commercial cooking and even residential sector. It's the only biomass solid fuel, which is free flowing and can be automated and stored as gas & diesel. For decades, this wonder Biomass fuel has already made its Strong Presence in the Europe, Canada & Italy America's in all heating applications.
Biomass Pellets Can Be Used For & With
Commercial Cooking ,Heating & Baking :
NDMI Vertical Burners/Stoves in 3 Different types are gaining popularity in Sweet making & Frying Sector due it cost effectiveness ,ease of operation, robust product delivery & instant services . Type-1 & 2 have captured the market and are successfully running in all major sweet houses in Uttar Pradesh state of India . Bakery Ovens running diesel are switching to Pellet Fuel base Ovens delivered by NDMI in collaboration with European conglomerate.
Industrial Heating:
Pellet Fuel is Powerful tool for Industries to meet Govt. pressure for controlling Carbon foot prints and other pollution, hygiene norms which are impossible to achieve with fossil fuels. Pellets are best sized, enables it to flow freely through pipes, so feeding and spreading can be easily automated. Pellet burners suitable for such high efficient applications are manufactured by us under our strict supervision.
Residential/Commercial Heating:
In cold area where room heating & water heating is constant requirement .There Pellets can be wonderful Alternate Energy resource with can give made available round the Year, irrespective of seasonal changes. It can replace wood & LPG for heating, appliances based on pellets like fire places, Water Heating setups & Hot Air Generators for large space can be used.
Advantages of Pellet Fuel
Cost Effective – Usage of Pellets reduces maintenance cost & life of plant increases. Consistent Quality means consistent Heating.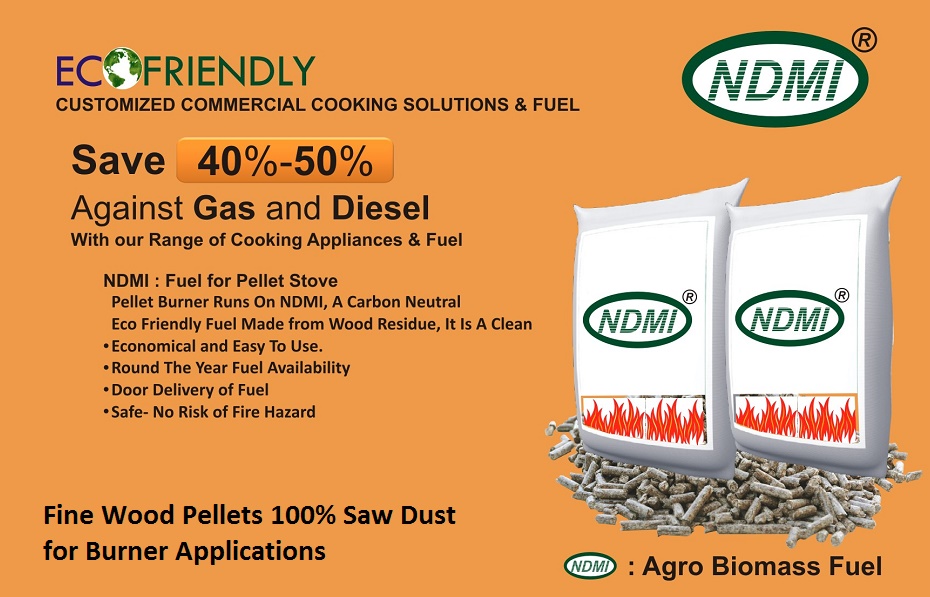 Current Scenario of BIOMASS / Coal / Wood
Presently and from the past also the primary source of energy which people are using is the fossils fuel, in terms of petroleum products and coal. As the cost of conventional fuels increases, the use of biomass briquettes and pellets is likely to grow. People look for alternate and cheap energy sources (non conventional resources) to fulfill this tremendous demand. One of the important resources of non- conventional type is the biomass. Biomass includes organic matters such as wood, crops (agricultural), forest, animal wastes etc.
Densification of Loose Biomass (Briquetting)
Pellets and briquettes are made by compressing dry biomass or wood shreds under high pressure until the lignin softens and binds the material together. The combination of low moisture content (typically below 10%) and highly compressed material gives pellets/briquettes a high volume energy density, typically three to four times that of wood chips.
They are also clean, consistent and flow easily, making them particularly attractive in domestic applications. The significantly lower storage requirements compared with wood chips also make them attractive to urban applications.
Pellets for domestic and small scale applications are typically 6-8 mm diameter, while those for industrial applications may be 10-12 mm. Above 25 mm diameter they are known as briquettes and can resemble a fire-log in appearance and function, though with improved storage, handling, and combustion properties
There are three main types of briquetting machine (see diagrams)
The screw press, which uses a tapered screw, and produces longer, hollow briquettes
The piston press, which uses an oscillating piston to compress the biomass, and produces cylindrical briquettes, 50 to 100 mm in diameter
The pellet mill, which compresses the biomass between rollers and makes smaller cylindrical pellets (similar to animal feed pellets) 6 to 12 mm in diameter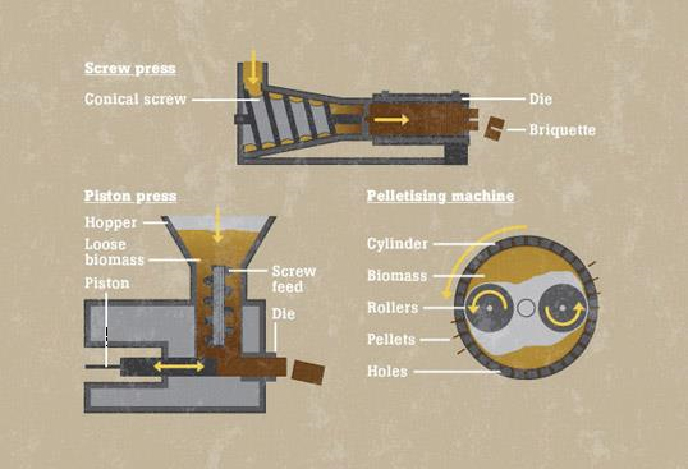 Salient Features of the Biomass Briquette(White Coal/Bio coal)
Eco-friendly non-conventional energy (Renewable Energy) project.
Economical and cheaper than other solid fuels i.e. coal
Higher thermal calorific value around 4000 Kcal/Kg.
Pollution free because there is no sulfur or any hazardous material.
Lower ash content 2 to 5%. There is no fly ash when burn.
Consistent high burning efficiency due to the low moisture.
Contain high density & Higher Fix Carbon value.
Easy for Transportation, feeding & combustion due to unique shape.
Combustion is more uniform compared to other coal.
Demandable market due to high rise in fossil fuels price.
Raw Material availability
The current availability of biomass in India is estimated at about 500 millions metric tonnes per year. Studies sponsored by the Ministry has estimated surplus biomass availability at about 120 – 150 million metric tonnes per annum covering agricultural and forestry residues.
Biomass Briquettes are made off the Agriculture Waste, Forestry Waste and Industrial Waste.
Forest Wastes & Residues
Saw Dust, Sander Dust
Wood Chips & Shavings
Tree Bark & Twigs
Pine Needles & Lantana Cameras
Wild Grasses & Shrubs
Bamboo Leaves etc.
Agricultural Wastes & Residues
Husk - Rice, Coffee, Mustard & Sunflower
Shells Groundnut, Almond & others
Stalks - Cotton, Arhar, Mustard & Maize
Bagasse, Sugar Cane Leaves & Trash
Cobs – Maize & Bajra
Coir Dust, etc.
Industrial Wastes & Residues
Paper mill sludge
Sugar mill press mud/sludge
Corn mill sludge
Market potential for finished products
The market potential of fuel briquette is very large. Fuel briquette is a non conventional source of energy for which demand is expected to increase substantially in times to come. High cost of conventional fuel like coal, furnace oil and gas coupled with shortages is making briquette fuel quite acceptable. Supply of fire wood is also scanty and cost is rising alarmingly. The worsening coal availability and its deteriorating quality emphasis need for alternate fuel.
Briquettes/Pellets are widely used for any type of thermal application like steam generation In boilers, heating purpose, drying process & gasification plant to replace existing conventional fuel like coal, wood & costly liquid fuel like FO, Diesel, LDO, Kerosene etc. Use of Briquettes as a fuel for green energy has shown very promising results.
Briquettes/Pellets is a forth coming fuel of the world. An upcoming use of Briquettes is in Bio-Gasifires for Thermal Applications and Electricity Generation. It's a high quality asset towards economical, ecological, & advanced environmental company policy.
Various Components of a Pellet Plant
Chipper
Hammer crusher
Dryer
Homonizer
Pellet press
Cooler
Storage silo
Packing & Bagging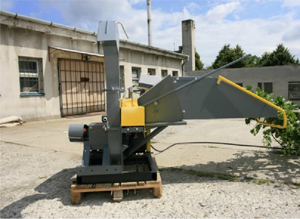 Chipper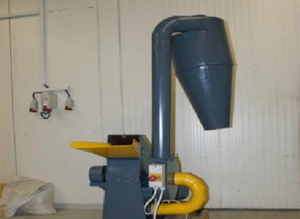 Hammer crusher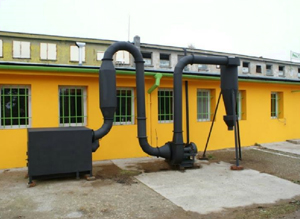 Dryer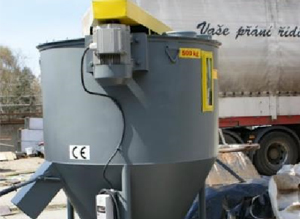 Homonizer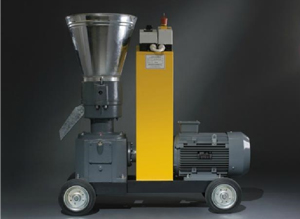 Pellet press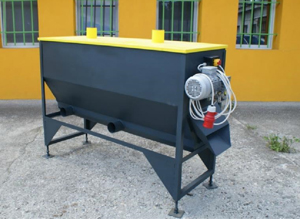 Cooler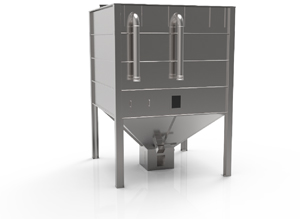 Storage silo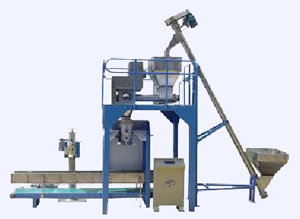 Packing & Bagging